How to Become a Certified Nurse Midwife
Do you have a passion for delivering babies? Or do you like to give pregnant women advice on or before they reach labor? Then CNM is the right career for you, but choosing this career, you need to know all the necessary factors, procedures, requirements that you need to have before you can become a Certified Nurse Midwife.
Who is a certified Nurse Midwife?
 Nurses in this department help patients deliver babies; they also give care like gynecological, prenatal, and post-pregnancy. Nurses in this field can work as advanced practice registered nurses (APRNs). 
With this knowledge, they can prescribe medications, and also they can even take on more medical jobs compare to an RN.
To become a certified nurse, a midwife often comes with some challenging problem, whether in education or when gaining experience. But all this can be overlooked if you are ready to work with passion and dedication.
As a certified nurse, it is essential to earn advanced practice licensure at your state level. Also, obtaining a nurse-midwife certification is necessary. 
All this certification won't be complete with graduate-level schooling. A nurse who wishes to go into this field must earn a master's or doctoral degree.
What is the job of a certified nurse midwife?
You need to understand the job or role of certified nurse-midwives. Having some required skills, knowledge, or experience won't matter the most time.
If, as a nurse, you did not understand how the job you wish to apply for works, then it will become a problem whenever you find yourself in that field. As a certified nurse-midwife providing health services to women is very important also.
You can offer other health services, including primary care, gynecological care, care during pregnancy, birth, and postpartum after a woman has given birth, a certified nurse-midwife taking care of newborns for the next two months.
Their job also can include treating male partners who are either infected with sexually transmitted infections (STIs) or not.
 Provides care during childbirth
Nurses in this field can serve as the primary nurse and also provide care during childbirth. Midwives are always required to be in the labor room to help both the mother and child during labor.
They know how to handle all possible problems or implications that can surface during delivery or after giving birth.
Personal guide through pregnancy
As a certified nurse-midwife, you will be mainly be assigned to pregnant women and be their guide throughout their pregnancy stage. Certified Nurse Midwife has also known neonatal resuscitation. While working in a hospital, Certified Nurse Midwife often work closely with physicians because it is before a midwife's capability if any complications show.
Work with physician in cesarean section
The physician will take up the task and finish it. Some Certified Nurse Midwife is trained to work with physicians in case there is a cesarean section.
All these roles of a Certified Nurse Midwife often require some critical – reasoning skills, and also nurses in this field are most times required to stay calm under pressure.
Because any decision you make as a Certified Nurse Midwife can be of either problem or solution for a mother or an infant, which means any decision you want to take must be beneficial to both the mother and child.
As a trained Certified nurse-midwife, you need to have strong communication and interpersonal skills. Nurses in this field sometimes work as a team, and most time, they educate and advise parents to be about the birthing experience and how to care for their newborns.
Where can you work as a Certified Nurse Midwives work?
As a Certified Nurse Midwife, there is a lot of places you can work. This includes; working in a hospital, clinic, or working with private health care. They can also use health maintenance organizations if they wish to work there. 
Certified Nurse-Midwives most time do work as a team, while others might prefer to work only on child delivery. Providing birth services for free can also be one of their primary work or going to people's houses to offer postnatal services.
While they work outside the hospital range, most times, Certified Nurse-Midwives can work with other midwives like certified professional midwives (CPMs).
Working as a certified nurse-midwife can be as fun as ever, but at the same time, it can also be stressful depending on how your love this job, handling both stress and fun should not be a problem.
It is fun that some babies are born at night, this might seems challenging, but at the same, it is entertaining to deliver a baby at night. Sometimes, most CNMs have to be on alert because a job or work can come in at any period.
As CNMs working at unusual hours do come in always and remember that saving patient lives matters as a nurse.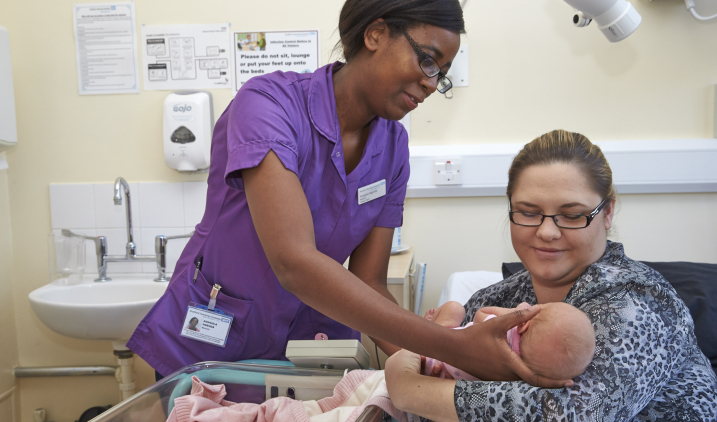 Steps on how to become a Certified Nurse Midwife
Like other nursing types require specific steps or procedures, so also becoming a certified nurse, midwife requires necessary steps to be followed. Different programs are created for nurses who wish to become a certified nurse-midwife.
The journey to becoming a certified nurse-midwife might seem like a problem, but irrespective of any issues that come with it, always note that following the steps listed below will help you achieve all of your dreams. 
Step 1: Earn a Bachelor of Science degree in nursing: 
To become a certified nurse-midwife, obtaining a Bachelor of Science degree in nursing is one of the essential steps to be followed. Different universities or colleges have various nursing programs created to help nurses choose their path in the nursing field. 
It is always four years course, but it might vary in some cases. While taking a four-year course in this nursing field, during a part-time job outside or inside the clinic might boost an aspiring nurse's work experience who wishes to learn more and have more knowledge in CNMs.
Step 2: Try to obtain licensure as a registered nurse: 
As a registered nurse who wishes to become a certified nurse-midwife, it is essential to pass the NCLEX – RN examination, and also having an undergraduate degree will be a bonus to your credentials. 
You have to apply for registered nurse licensure from your state. But note that all states have different requirements, while some states might decide to include an exam to test nurses about their nursing law knowledge. 
If you wish to obtain licensure, it will be advisable to check your licensing board in your state and learn more about their requirements or new changes.
Step 3: Earn a master of science degree in nurse: 
Whether you have a bachelor's degree already, it is necessary to obtain a master of science in nursing(MSN). 
Because this won't only boost your experience as a nurse, but it will also create a pathway for you to enroll in a certified nurse-midwife program. But some requirements are attached to getting into a certified nurse-midwife program. 
These include; a year of working in a hospital or delivery unit as a registered nurse, the latest and acceptable RN license must be available, having good grades in (GRE) graduate record examination.
Step 4: Chase specialization while working as RN :
A working as a registered nurse before chasing a career path as a certified nurse-midwife is very important. 
All this experience will sharpen nurses' experience and boost their skills and knowledge, which makes nurses at this level be advanced and have a higher advantage over others. 
Also, there are chances for nurses to chase extra certifications and gain more knowledge about what CNMs entails. 
RNs can get trained on neonatal intensive care nursing certification given by National Certification Corporation only to nurses who further widen their horizons about learning and earning a certificate. 
This type of certification can back up a nurse's experience on his or her past background work on how to take care of infants. 
Obtaining this certification requires one year of professional experience either in labor or by working with pregnant women, and also having a good grade in the exam is essential. 
Acquire certification from AMERICAN MIDWIFERY CERTIFICATION BOARD: 
As a Registered nurse who wishes to pursue a career in CNMs. It is essential to earn a certificate offered by the American Midwifery Certification Board because they also provide CNM credential. 
Before this CNM credential can be earned, nurses need to obtain a graduate degree plus an RN license. 
Also, the passing of the AMCB certification exam is very important because this exam will test a nurse knowledge about the safe practice and also test other knowledge on;
Physiology
Pharmacology
Clinical decision making
This test often consists of multiple-choice questions, which means that as a nurse taking this examination, being extra careful is a must. This exam will also be conducted on a computer that is integrated with possible questions to be asked.
In conclusion,
There are many steps to becoming a Certified Nurse Midwife, and also, there are tons of Certified Nurse Midwife programs, but some are listed above.
As a nurse ready to start a carry path in becoming a certified nurse-midwife, kindly note that even having experience without specific skills might be a problem.
Before picking out a career in nursing, kindly check where you fit or belong. Taking care of newborn and delivering babies during labor is not an easy task.
That is why you must be extra careful because of the mother's life and the child is in your hands. Remember that taking care of patients and saving their lives plays a significant role in becoming a nurse.