How to Become a Forensic Nurse | Salary & Programs
Many individuals are interested in taking their nursing career beyond the regular nursing responsibilities and duties. Such individuals can consider various opportunities including becoming a forensic nurse.
But what is forensic nursing? How can you become a forensic nurse? What are the duties of this nurse? What are the career outlook and salary of an average forensic nurse? These are some of the questions that will be answered in this article.
What is Forensic Nursing? What is a forensic nurse?
Forensic nursing is a relatively growing nursing career that bridges the gap between medicine and law. A typical forensic nurse is responsible for assisting victims of crimes to get expert testimony as well as medical evidence that is admissible in court.
By catering to the needs of victims of abuse, violence, and trauma, a forensic nurse will aid the healing or recovery of victims and/or their relatives and friends.
It is worthwhile to note that level of experience and expertise of a forensic nurse will determine the sensitivity of the crimes that they can handle. Also, as a forensic nurse, you can obtain Sexual Assault Nurse Examiners (SANE) certifications to focus mainly on sexual assault/trauma.
A few of the skills that can help a forensic nurse to perform her duties expertly include:
Critical thinking and analysis
Ability to handle trauma
Excellent communication skills
Good knowledge of legal and criminal justice systems
Compassion for victims of crimes
Ability to maintain composure in tensed environment or situation
What are the roles of a forensic nurse?
Depending on the situation surrounding a crime, a forensic nurse may need to perform various roles. However, the primary roles of a forensic nurse are:
Assess the condition of patients to find and gather evidence of injuries, accidents, and trauma before they are referred to another level of medical treatment. This can be done in a facility or crime scene.
Support survivors of crimes as well as their families.
Collect necessary evidence and submit it to the law enforcement agencies for criminal investigations.
Work with law enforcement to ascertain criminal evidence.
Testify in court.
Steps to becoming a forensic nurse
If you are interested in becoming a forensic nurse, it is important to learn what you need to do. Here, we will describe the basic steps you have to take to become a forensic nurse.
Get a nursing degree
Only a registered nurse can become a forensic nurse; therefore, you have to get started by earning a nursing degree. You can get a nursing degree through any of these options:
Take a two-year program to earn an associate's degree in nursing (AND).
Take a three-year program to get a diploma in nursing. This program is usually conducted by a hospital.
Take a four-year program to earn a bachelor's degree in nursing (BSN). This is usually earned from a university or college.
Become a licensed nurse
Graduating from any of the nursing programs above doesn't mean that you have become a licensed nurse. So, you still need to take and pass the National Council Licensure Examination (NCLEX). Notably, this is a standardized licensing examination for nurses in Canada as well as the United States of America.
Here are some things you should know about the NCLEX exam:
It is computerized and costs only $200.
It has about 75 to 265 questions. The test will shut down automatically based on the fail/pass percentage obtained.
It has a time limit of about 6 hours. However, there are two optional breaks for each candidate.
Each candidate can get their results after 2 business days for just $7.95.
Generally, as a licensed nurse, you can start applying for jobs in different nursing facilities. However, if you want to become a forensic nurse, there are still a couple of things you need to do.
Gather relevant experience
Although you can proceed to acquire certifications related to forensic nursing, it is advisable to gain some knowledge. This is because many employers will prefer hiring a forensic nurse with some clinical nursing experience. So, if you don't have relevant experience, you may be at a disadvantage.
Also, you can work in different areas as long as they are related to nursing. However, the following are more preferable:
Psychiatric nursing
Medical-surgical nursing
Pediatric nursing
Get a forensic nursing certificate
To obtain the skills needed, you should consider taking a forensic nursing certificate program. This program can come in the form of a post-graduate program or continuing education. The length of the programs often differs based on the curriculum, nursing schools involved, etc. In addition, you may need to go for a practicum.
One of the forensic nursing certificates you can take is the Sexual Assault Nurse Examiner (SANE) Certification. This certification is of two types:
SANE-A: This certificate is meant for forensic nurses that work with adolescents and adults
SANE-P: This is for forensic nurses that cater to the needs of pediatrics.
To take any of these two certifications, you must have worked for two or more years as a registered nurse. Also, it is important to meet the remaining requirements of the Forensic Nursing Certification Board.
However, you must understand that getting a forensic nursing certificate doesn't mean that you are board-certified in the field. In other words, you need to satisfy other requirements to be board certified in forensic nursing.
Nevertheless, you don't need to be board certified to work as a forensic nurse. However, board certification can show your expertise and also increase your chances of finding a great job.
Obtain an advanced degree program (Optional)
Foremost, you should understand that this last step is not compulsory. However, getting an advanced degree program can boost your career and increase your skills significantly.
A forensic nursing program can be a master's or doctoral degree that will cover the following courses:
Ethics for nurses
The legal system
Evidence-based practice
Advanced criminological theory
Theoretical foundations for population health
Population assessment and intervention
Forensic methodologies
Advanced assessment, pathophysiology, and pharmacology
Interpersonal violence
Sociology of crime and delinquency
In general, an advanced degree program will assist you to prepare for opportunities to work in various roles such as:
Legal nurse consulting and/or teaching
Violence prevention programs
Clinical forensic roles
Forensic psychiatric nursing
Legal nurse research
Once you have completed these steps, you can work in any facility that requires the services of a forensic nurse.
Where can a forensic nurse work?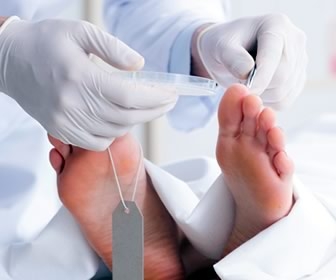 Having learned how to become a forensic nurse, you may want to know where this specialized nurse can work. A forensic nurse can work in:
Hospitals – The nurse can collect and document evidence about injuries, trauma, sexual assault, etc. in emergency rooms and urgent care departments. She may also need to file a report to law enforcement.
Medical examiner offices – A forensic nurse can work with the medical examiner, pathologists, and coroners to determine the cause of death through autopsies and collection of evidence.
Community anti-violence facilities – A forensic nurse can also work in community anti-violence programs to help the vulnerable and victims of sexual assault, domestic abuse, gang violence, and sex trafficking.
Non-profit organizations – This is to assist victims of abuse.
Salary of a forensic nurse
Of course, you cannot spend money, time, and other resources to become a forensic nurse without considering the average salary you can earn. As stated on the website of PayScale, a forensic nurse makes an average of $30.61 every hour. This translates to about $73,985. It is worthwhile to note that a typical registered nurse in a hospital may earn a bit more than a forensic nurse.
However, you should note that forensic nursing is quite new when compared to many other nursing specialties. Hence, we may start experiencing an increase in the average salary of a forensic nurse in the future. Nonetheless, the current salary of a forensic nurse is relatively good for a start.
Additionally, the average salary of a forensic nurse varies based on some important factors such as:
Like other jobs, some geographical areas in the USA are known to pay better salaries than others. Therefore, if you are in such a location, you are expected to earn more than the average salary of a forensic nurse.
For instance, a forensic nurse in California can earn about 30% or more than a forensic nurse with similar skills and experience in Alaska or Oregon. However, the difference in the living expenses in these geographical is an important consideration.
Different employers don't pay the same salaries. Hence, the employer of a forensic nurse determines the specific salary of such a professional.
Nonetheless, a forensic nurse can discuss expectations about being on-call as well as the other compensations that come with working in a particular facility.
In addition, the employment outlook for forensic nurses is great. According to the BLS, the employment of nurses is expected to increase by 7% between 2019 and 2029. Therefore, getting a job shouldn't be a problem for a forensic nurse.
Conclusively, if you want to become a forensic nurse, follow the steps above.