Survival Tips for Nurses Working the Night Shift
Nurses serve as the first line of defense against sickness and disease. They are the unsung heroes of our time. In addition to being the first line of defense, nurses also have to suffer odd work hours. Some nurses have night shift duties. Night shift nurses face a lot of challenges, such as distance from administrators and disturbed sleep patterns. Here are some tips for night shift nurses to survive throughout the night.
1. Always Be Snacking
This is the first helpful tip for night shift nurses if they want to survive throughout the night. If you have ever been to the hospital, you must know that not all hospital cafeterias serve round-the-clock. This is why night shift nurses may not find enough food during the night.
In order to maintain energy and stay active through the night shift, night shift nurses must keep snacks at ready. As a night shift nurse, you can also invest in protein powders and shake mixes. This will help you face any challenges of the night shift.
2. Keep Yourself Hydrated
Hydration is one of the most important elements when it comes to surviving a long shift at the hospital. Proper hydration will help you avoid headaches and fatigue during the night shift. It is important for night shift nurses to carry water bottles with them at all. You have to hydrate yourself and keep your energy levels at optimal constantly.
3. Get Adequate Amount of Sleep During the Day
If you want to survive the night, you will have to stay awake and active throughout the night. However, this is one of the hardest things and challenges that night shift nurses have to face. This is why it is recommended that night shift nurses invest their time in at least 8 hours of sleep during the day. You should get an adequate amount of sleep prior to your night shift.
You will have to train and adjust your body according to your shift and work hours. If you have night shift duty for the next few months, you will have to adjust your sleep schedule accordingly. Even if it is your day off, you should try and get at least 8 hours of sleep during the day. It will help your body understand your new biological clock. Moreover, it will also help you avoid dozing off or snoozing during your shift.
4. High-Quality Digital Watches
Another important helpful tip for night shift nurses is that they should wear a high-quality digital watch all the time. It will help them stay in touch with their tasks and chores. Moreover, you will stay in sync with time and your important reminders. It is of utmost importance to do everything on time as a nurse. So, wearing a digital watch will show you the important reminders at the right time.
Similarly, you will not have to withdraw your smartphone from your pocket every other minute. You can use a smartwatch and stay in touch with your messages, notifications, and reminders without issues.
5. Stay Away from Caffeine
In addition to this, night shift nurses should also avoid caffeine at all costs. Caffeine makes you jittery and shaky. However, nurses need to be alert and on their best at all times. Therefore, caffeine can either result in hyperventilation or a lack of focus.
Similarly, too much caffeine can also take a toll on your mental and physical health. You may feel like you are full of energy in the beginning. However, soon, you will feel exhausted and tired. It can easily disrupt your circadian rhythm. Moreover, it is also addictive. You will start losing focus, and it can negatively harm your practice.
6. Bond with Your Co-Workers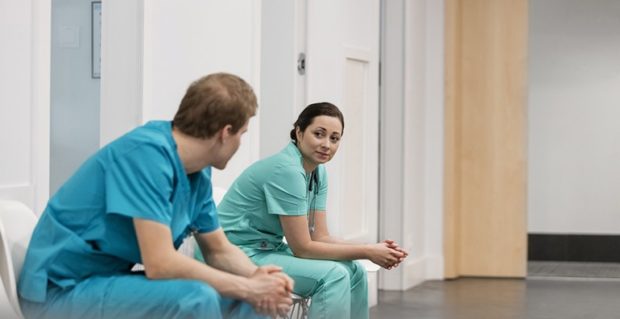 If you want to get through the night, you will have to bond with your co-workers. You will have to share a powerful bond with your co-workers who understand you and are always there to support you. Your fellow medical practitioners will serve as your backbone and help you get through the horrors of the night shift.
The special camaraderie between night shift nurses can rejuvenate you with the right attitude and energy to get through the seemingly long hours of the shift. It will make it easier for you to handle the long shift, and you can get through smoothly.
7. Exercise and Stay Alert
One of the best ways to stay alert and active throughout the night shift is to invest your time in regular exercises and workout sessions. Night shift nurses tend to suffer from fatigue and drowsiness at night. This is why they need to find constructive ways to stay busy and active. Regular exercising can help you stay alert and fit to face any challenges of the night shift.
8. Stay Busy with Constructive Activities
As a night shift nurse, you have to find exciting and constructive ways to stay active and busy. Nurses are extremely busy during the day. They have to continuously stay active and engage with doctors and other nurses for the patients. However, night shift nurses don't have that much going on in the ward. Therefore, boredom is a real challenge for the night shift.
This is when you can take advantage of constructive activities and stay active and busy. You can say goodbye to boredom by investing your time in your favorite pastime hobbies, such as reading, writing, movies, exercises, etc.
9. Take Enough Breaks
It is important that you give yourself enough breaks throughout the shift. You need to give yourself some space and take a breather. It will help rejuvenate your body with much-needed energy to tackle the rest of the shift. There are often designated areas for nurses to get some shut-eye in the dark. You can request your fellow nurses to wake you up after a power nap.
10. Invest in Brighter Colors
Lastly, you need to invest in brighter colors during the monotonous night shift. It will help you stay active and keep your morale high as well. Colorful scrubs and clothes also boost your mood and keep you moving forward with a smile on your face.1.